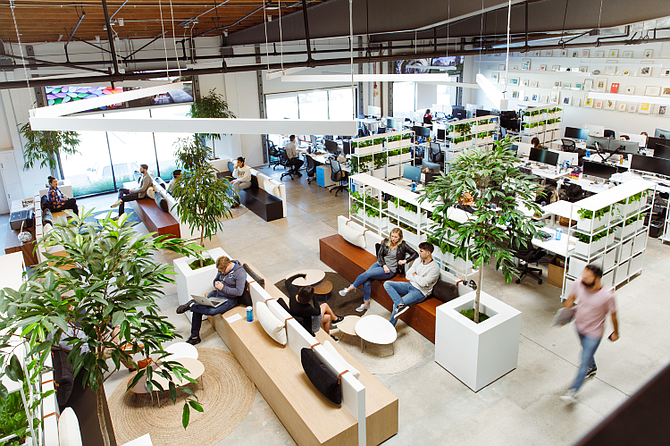 GoGuardian leads Edtech's growth, industry to reach $ 80 billion by 2028
In elementary school, Advait Shinde never felt he was really learning. He said that he and many of the kids he grew up with memorized information to get good marks on exams, but the place he really enjoyed learning was the internet.

"I turned to the Internet as a way to really unleash my curiosity," Shinde said. "There was such a big gap between my online experience as a kid and my classroom experience."

Years later, still driven by the motivation to make learning more engaging through technology, Shinde launched Liminex Inc., better known as GoGuardian, a K-12 education technology company. Founded in 2014 by Shinde, Aza Steel and R. Todd Mackey, the El Segundo-based company offers a host of digital learning software for students, teachers, parents and administrators.

The GoGuardian suite of products – GoGuardian Admin; Teacher; Fleet; Tag; Parents application; Pear bridge; and DNS, its network filter – helps with classroom management, student engagement, and technology monitoring and filtering. Its tools also increase student safety by identifying children at risk of self-harm or harming others by monitoring Internet history for threats of violence and bullying. Its products are the most popular among administrators and teachers.

As the education technology market has exploded over the past year and a half, driven by pandemic-induced demand, investors and users have flocked to GoGuardian.

The company's products are used by more than 25 million students and 500,000 teachers in more than 10,000 schools. Its technology is used in 23 of the 25 largest districts in the United States. In the past year alone, the company's customer base has grown by 75%, Shinde said.

"Best in class"
Shinde said the company saw a 150% increase in annual revenue this year, although he declined to release the company's sales figures.
"As a result of the pandemic, we have experienced pretty phenomenal growth," he said. "We are approaching (serving) about half of all learners in the country. "

The company has also gained the attention of large investors over the past year. In August, GoGuardian made a strategic $ 200 million investment with Tiger Global Management, a New York-based investment firm that manages around $ 65 million in assets, according to Axios. The funding boosted the company's valuation to over $ 1 billion.

GoGuardian plans to use the investment for talent acquisition and product development. Shinde said the company aims to increase its workforce from 450 to 500 by the end of 2021 and reach 1,000 employees by 2023.

"This funding is going to be used directly to expand our team, especially our product team, to further expand our portfolio," said Shinde.

Distance learning boom
GoGuardian isn't the only digital learning company with recent success. The pandemic has sparked a boom for the education technology industry as a whole, said Derek Higa, research analyst for Playa Vista-based consultancy William O'Neil and Co. The market is worth around $ 10. billion dollars in the United States, Higa said.

But despite the boom, the industry is fragmented and is only in its "early days," he said. Without one or even a few companies dominating the space, there is room for small startups to make strides in the industry, including several based in the Los Angeles area, such as Numerade Labs Inc., Pasadena-based Age of Learning Inc. Glendale-based. and Emile Learning Inc. of Beverly Hills.

"Technology is more integrated into our lives than ever before, and schools are way behind in this area," Higa said. "During Covid, they realized that they are going to have to catch up."

The pandemic has forced thousands of educators to become tech experts overnight.
Josh Davis, instructional technology coach for the Downey Unified School District, said he became the "most popular guy in the district" after the start of Covid-19 because many teachers were new to technology.

"GoGuardian does a good job of reducing this fear factor and getting people ready to try the technology," Davis said. "As soon as we got back in person, the teachers were like, 'Where's my GoGuardian? I need to get it back.

The future of blended learning
Although thousands of students have returned to face-to-face classes, Higa does not expect the growth of the education technology market to slow. He predicts that the market will grow at a rate of 30% per year until 2028, reaching around $ 80 billion that year.

"There is an opportunity for technology to complement the curriculum," Higa said. "It's going to be based on a blended learning experience. GoGuardian is ready for the booming industry, Shinde said.

Although the platform is already used by over 20 million K-12 students, its ultimate goal is to reach "hundreds of millions" of students by growing globally. Currently, 95% of the company's users are based in the United States, with the remaining 5% based internationally.

Because GoGuardian is "generalizable," Shinde said he believes the company's products can be of use to students in any country.

"The kind of platform we've built today is a platform that is naturally going to lend itself to things like experimentation, quickly increasing engagement," he said. "Our goal here is to truly maximize the educational potential of all learners on the planet, period."
For reprint and license requests for this article, CLICK HERE.