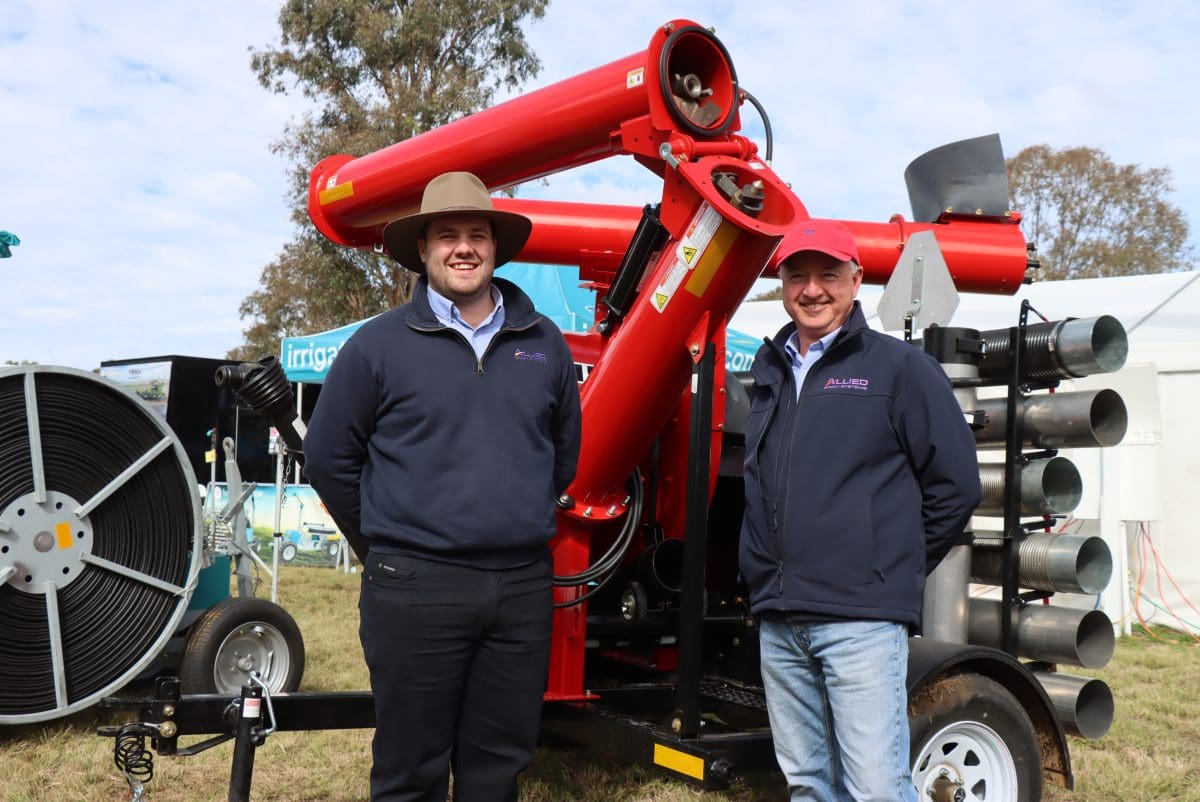 FarmFest underway in Toowoomba + PICS
COLD and windy conditions didn't stop crowds from packing Kingsthorpe Park, west of Toowoomba, for the opening day of Elders FarmFest, one of Australia's biggest farm days.
With over 2,000 companies participating, customers from across the country came to see some of the range of products and services on display at the annual three-day event which kicked off yesterday.
Exhibitors said persistent wet conditions, which are blocking harvesting of summer crops and sowing of winter crops across much of southern Queensland and northern New South Wales, have not hampered the general dynamism of producers and agricultural businesses during the three-day event.
Allied Grain Systems is a regular FarmFest exhibitor and North Division Sales Manager Michael Knight said crowds on the first day were up from last year, but overall turnout would depend on today's numbers.
"The audience was good [on Tuesday]; we've had good demand, good genuine demand from farmers looking to improve their handling system," Knight said.
"It seems to me that there are more people wondering than… last year.
"It might be a little compressed as the weather forecast for Thursday is pretty awful."
Knight said he has seen the greatest interest from growers in Allied Grains grain evacuation systems.
He said this represents a general trend among growers who still have reserves from last season's winter crop.
"Even though they haven't had a big winter crop yet, they still have grain that they didn't sell last year.
"The grain is still in sacks and bunkers and [GrainVac] is the fastest way to unload and clean it.
Regional Manager AgForce Queensland South East Andrew Sinnamon said events like FarmFest gave farmers the chance to get hands-on experience with products and services that is not possible with online platforms.
"A good thing about an event like [FarmFest] it's that you can come, see, smell, touch and experience what the product is," Sinnamon said.
"If people can see it and touch it, it gives a bit of security and makes them happier to walk away with the product."
Obvious supply delays
While seeing the goods first-hand is a bonus for FarmFest visitors, Sinnamon said getting the goods might take longer than expected.
He said it was clear that global supply chain issues were causing significant delays in delivering products to customers.
He said several factors were behind these issues, including a hangover from COVID-19 lockdowns.
"It is partly from COVID and partly not; we're just opening up and making the supply chains work.
"There is always a big backlog in the supply; I know with crushes there's a two year delay and I was talking to Toyota the other day and it's up to 18 months on some models.
Mr Knight said he had encountered supply chain issues and viewed them as an economy-wide concern.
"Supply chain issues are pretty common with everything.
"Two years ago you were waiting two months, now you are waiting 12 months."
Allied Grain Systems imports most of its products from the United States and relies on the speed and efficiency of the ports of Los Angeles and Vancouver.
"Getting containers out of Nebraska to either port is tough, and finding a slot to get it on a ship is tough, and just because you get a slot doesn't mean it goes there. go up either."
He said it was the same situation for types of goods, from parts for initial construction to spares.
"Delays are pretty much pervasive for most things."
Elders FarmFest has been presenting and demonstrating new products and services for 47 years.
FarmFest Event Gallery
Grain Central: Get our free news straight to your inbox – Click here