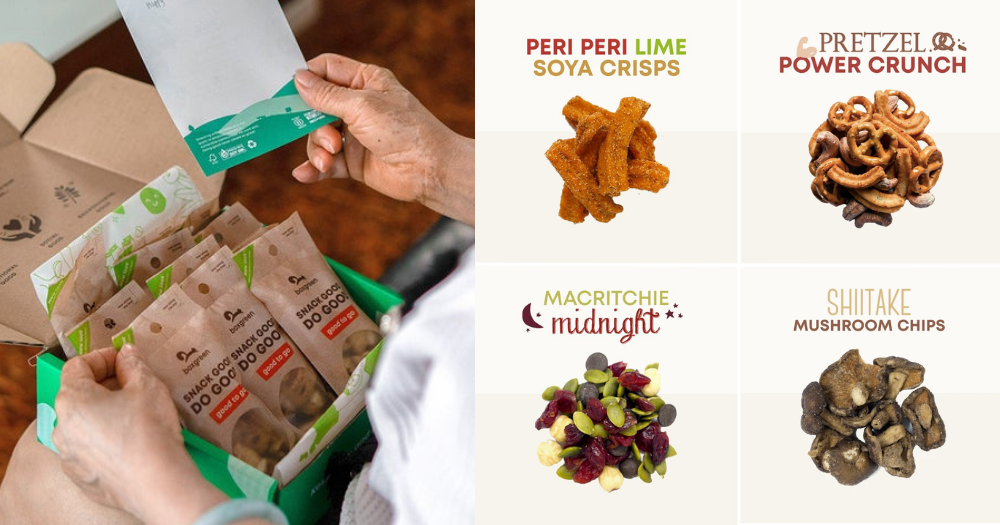 Social enterprise S'pore Boxgreen sells healthy plant-based snacks packaged by inmates – Mothership.SG
Follow us on Telegram for the latest updates: https://t.me/mothershipsg
What's better than snacking without guilt?
Support snacks that are good for people and the planet.
Boxgreen, a plant-based snack box social enterprise, offers an alternative to unhealthy snacks that are typically high in sodium and full of artificial preservatives, colors and flavors.
A wide variety of snacks and crunchies
Boxgreen offers vegan, nut-free, and gluten-free choices, as well as options to customize your order.
If you are looking to try a variety of products, you can Build your own gift box (from S$32.90) and fill it with 12 different snacks of your choice.
Or, reach for the Box of 12 varieties (S$29.90), which contains four of the most popular Boxgreen snacks, with three packs of each:
the Variety Pack of Crunchies (S$62.40) contains all six plant-based crunchies, five of which are halal-certified:
Coffee and Almond Biscotti with Red Quinoa
Umami shiitake mushroom chips
Honey Mustard Soy Crisps
Pretzel with peanuts and dark chocolate
Sriracha Multigrain Crackers
Mexican Baked Cashew Rice Crackers
They also offer ground peanut butter in jars (S$12.90) and six-packs (S$11.40/S$11.90), with flavors like Dark Chocolate Peanut Butter and Perky Coffee Peanut Butter.
Boxgreen's peanut butter is ground locally and palm oil free. Pleasant.
Boxgreen is offering free shipping on orders over S$30, as well as its five-pack snack subscription, which is priced at S$12.90.
Here's why you should support this social enterprise:
Support vulnerable communities
Each Boxgreen snack is jail-packed by Yellow Ribbon Project beneficiaries to build their skills and employability.
One of their packing facilities is located in Changi Prison.
According to DBS Bank (DBS), which supports Boxgreen, the social enterprise employs and trains more than 50 ex-convicts, and also hires ex-drug addicts, refugees, single mothers and people with special needs.
Covid-19 has thrown a spanner in the works for many local businesses. Boxgreen was not spared either.
"There's no way to let them sink or swim," co-founder Walter Oh said in a video interview last year.
Luckily, the social enterprise didn't have to lay off staff amid uncertainty, as Oh was able to improve its cash flow thanks to a loan from DBS.
The loan also helped the company expand operations when sales picked up during Circuit Breaker.
Company focused on sustainability
Plant-based and vegan snacks are sure to spark joy among the eco-conscious people among us.
In addition, Boxgreen packaging boxes are made from recycled materials and are 100% recyclable.
Beyond Boxgreen, their founders also launched a brand of "ugly fruit" drinks, according to Asia Food Navigator.
Ugly fruit refers to fruit that is less aesthetically pleasing and discarded due to cosmetic filtering.
Oh co-founder Andrew Lim shared that they hope to help reduce food waste with these drinks called Imperfect drinks.
The fruits and vegetables used to create the imperfect drinks come from a Malaysian supplier, while the teas are sourced locally.
Boxgreen is also exploring the possibility of turning dried fruits, coffee beans and tea leaves into fertilizer.
In Singapore, food waste is one of the major waste streams. Cosmetic filtering is one of the main contributing factors.
A committee member of the Fruit and Vegetable Importers and Exporters Association of Singapore said The time of the straits in 2020 that blemished fruit is discarded because it is not aesthetically appealing to consumers, who make up less than 30% of imported fruit.
In the same report, a local farm also cited cosmetic filtering as the main reason for waste before products reach consumers.
Do good this CNY
For Chinese New Year, Boxgreen is working with Rays of Hope, a group of volunteers who distribute meals to residents of York Hill Estate in Tiong Bahru, many of whom are elderly residents living alone.
With each purchase of Offer a package before 福 (33.80 S$), Boxgreen will donate S$5 to Rays of Hope to match each purchase with a goody bag to be given to residents of York Hill to celebrate the holiday season.
The Chinese New Year Limited Edition box contains three crunchies:
Pretzel with peanuts and dark chocolate
Sriracha Multigrain Crackers with Peanuts and Beans
Mexican Baked Cashew Rice Crackers
By January 19, the CNY Box Packages are 20 percent off.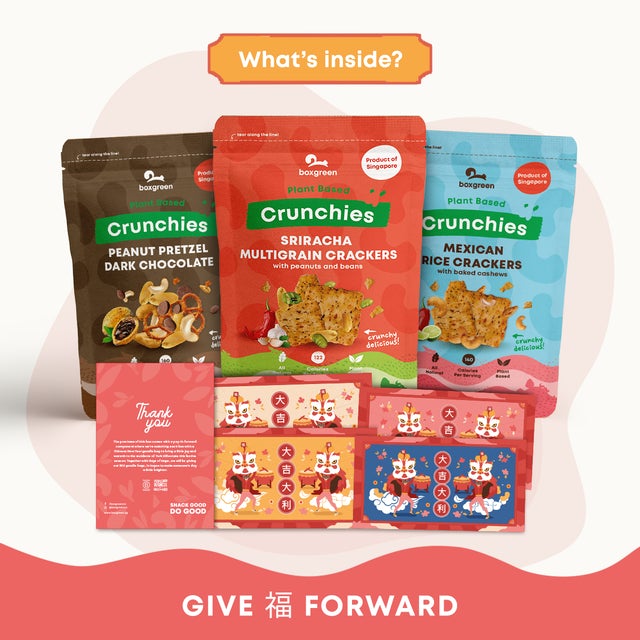 This article was made possible with the support of DBS Bank.
Through this partnership, we hope to inspire more people to take small but important steps towards a sustainable lifestyle, and raise awareness among purpose-driven companies and individuals who are paving the way for positive change.
Learn more about DBS Bank's sustainability initiatives here.
Best images by Boxgreen.