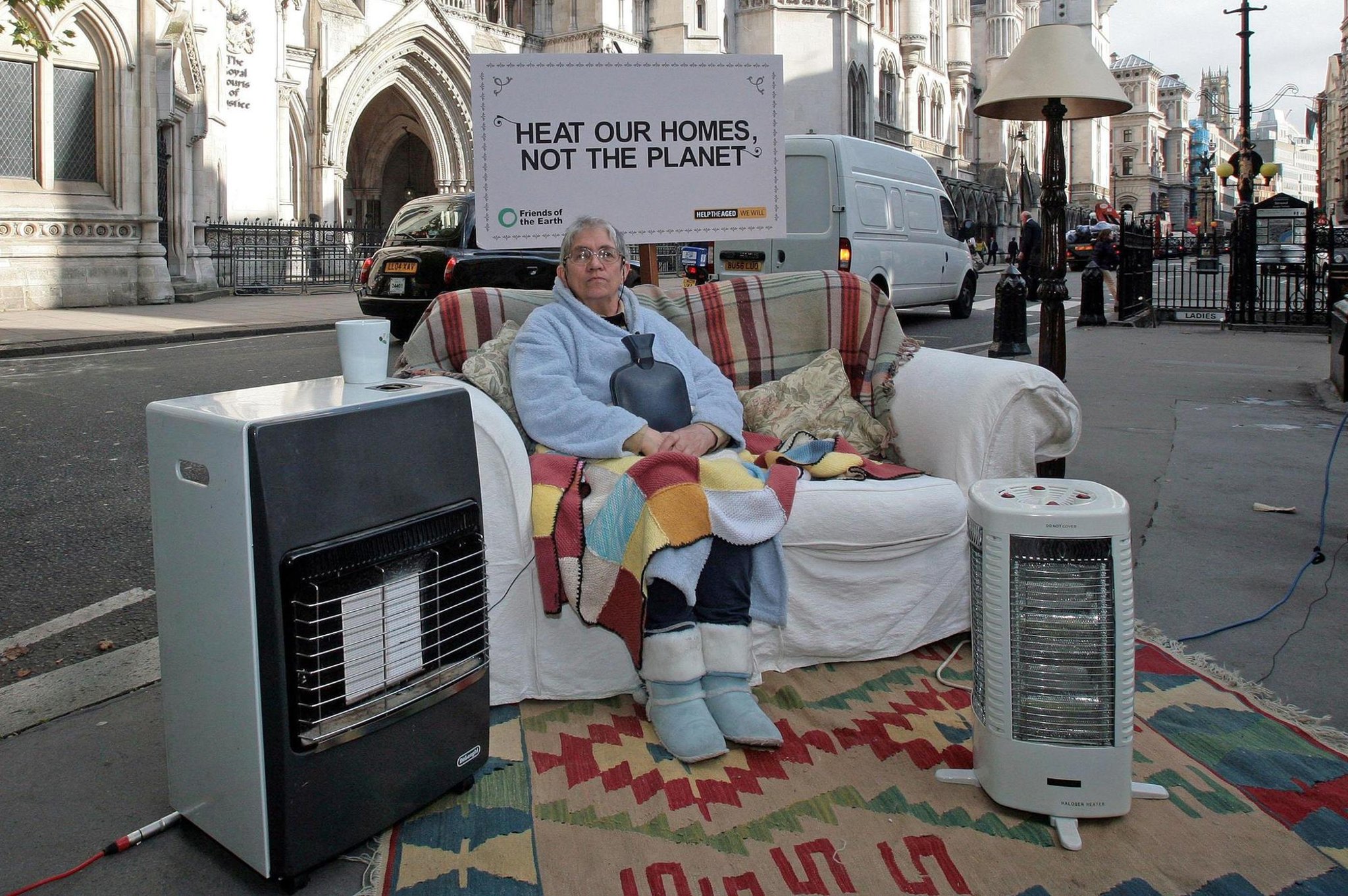 Good quality social housing is essential to building safe and sustainable communities – Kelly Parry, Cosla
Well-insulated homes are cheaper to heat and help reduce carbon emissions, as this protester points out in an outdoor living room (Photo: Katie Collins / PA)
However, not all of us had a place to call home. There has been a huge effort between the local government, the Scottish government and third sector organizations that have worked together to help people move from sleeping on the streets to safe housing.
We still have a lot of people in temporary housing, waiting for suitable housing to become available for them. A combination of Covid-related repair and upgrade backlogs, material supply shortages, and in some areas no manpower means this is incredibly difficult, but we are doing all we can. possible to find homes.
Our well-being depends so much on where we live, and we must continue to focus on helping people in homes they can truly call home and feeling a sense of belonging in their community.
We have strived to work with our tenants and our communities at large to understand their recovery priorities. We released the local government draft in September, and one of the key themes was wellness – we know our health is heavily influenced by the places we live and the opportunities we have.
Good housing can be a game-changer in the fight against child poverty. We need to make sure it is of high quality, affordable, including heating costs, and close to schools, workplaces, stores, and other amenities.
People should feel safe in their community, have a sense of belonging and ownership of their region. For this to be truly achieved, we need to ensure that they are involved in decisions about the design and delivery of services, which is why the innovative approaches that councils have taken to empowering communities in recent years are important.
Read more
Read more
Insight: Why Scotland needs to invest more in social housing
Things like participatory budgeting, where communities make decisions about how money is spent locally, and working with our tenants and resident forums and groups help us work together to improve the places people live. .
Earlier this year, the Association of Local Authority Chief Housing Officers (Alacho) released a report that asked the question: are we focusing on what matters to our right to adequate housing?
He looked at how we define adequacy, how we measure it, and how successful or failing we are.
It seemed larger than social housing and highlighted to me all the factors we need to consider to make our local areas and our housing, of all types, more than adequate – places people want to live, grow and be part of communities.
We take seriously our responsibility to make sure our tenants feel the homes they live in are places they want to spend time, which has been so important over the past year and a half.
In addition to providing housing for municipal tenants, local government is the anchor of our communities, providing essential services and therefore has a key role to play, working with partners to improve the well-being of all.
We are always learning from our tenants and communities at large about the needs and ambitions for their homes and local areas, which is why community empowerment is so important for improving homes, services and places in which they live and access.
The theme for today's Scottish Housing Day is the climate emergency. With Glasgow hosting Cop26 this year, we have a real opportunity to drive change in Scotland.
Scotland's social housing sector is already leading the way in energy efficient homes, minimizing heat loss through insulation and working with tenants on ways to maximize heat in homes.
The Zero Emission Social Housing Task Force has released recommendations on how we build on this, stressing the importance of a just transition, which ensures we tackle energy poverty alongside climate change – important in our ambition to end child poverty.
The recommendations recognize the importance of national leadership, but also the need for local delivery, building on existing strengths and developments in the social housing sector in recent years. This aligns with the local government plan, in our recovery from the pandemic; and to achieve our ambitious climate change targets, we must also work to strengthen local democracy.
Scotland is a diverse country with vibrant communities who want to work together to overcome the challenges we face. What works for our cities may not work in our rural communities or for our islands.
There are great benefits to providing locally accountable delivery – we know that in countries where this has been done, it has produced better results and has been more effective in improving wellbeing.
It matters in the context of everything I've written before – tackling child poverty, securing the right to adequate housing and enabling our communities to thrive – and of course in our work on climate change.
Another of the key principles underlying the recommendations of the Zero Emission Social Housing Task Force is collaboration; we must work together, with our fellow citizens, because it is not just a question of social housing. All households, governments, organizations and businesses have a role to play in creating a greener Scotland.
Councils have a key responsibility here, we bring together education, social support, community services, environment and employment services and many other important areas alongside housing, reaching all aspects of our life, as well as all key organizations and groups locally – with the people who live there in the center.
As Cosla's spokesperson for community well-being, I can see how all of these social housing factors come together and can seem difficult, especially as we recover from the pandemic.
But I can also see how we can weave them together into opportunities to build autonomous, safe and sustainable communities, with good quality social housing at the heart of it.
Councilor Kelly Parry is the Scottish Local Authorities Convention Community Welfare spokesperson
A message from the editor:
Thank you for reading this article. We depend on your support more than ever, as the change in consumption habits caused by the coronavirus is having an impact on our advertisers.
If you haven't already, consider supporting our trusted and verified journalism by purchasing a digital subscription.